Garmin Vivosmart HR+ Review
Vivosmart HR+ Now Has GPS - Is This The Best Fitness Tracker?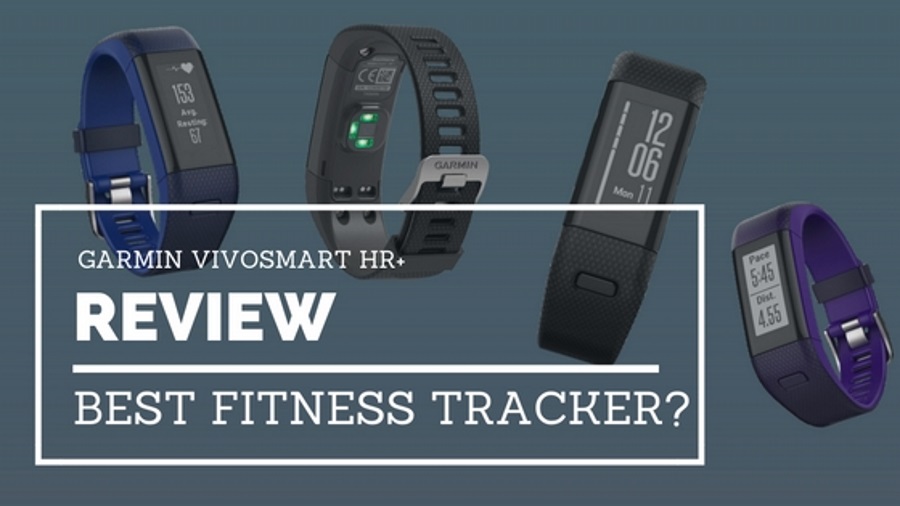 The Garmin Vivosmart HR+ is the latest addition to a long line of Garmin's production of waterproof fitness trackers, and it's newest release has raised the bar in a big way. Think of HR+ as Vivosmart HR on steroids.  For the fitness buffs, the Vivosmart HR lacked GPS capability, which meant that you had to jog with your GPS enabled smartphone.  But thanks to vivosmart HR+, that option has finally arrived with it's own in-built GPS – perfect for both runners and proper fitness geeks.
Literally, this is a fitness band with a continuous optical Heart Rate and GPS tracking feature, giving it the specifications to be a robust fitness tracker. With this notable upgrade to the predecessor, how does HR+ stack up? Just read on and see.
Design of the Garmin Vivosmart HR+
Visually it is more appealing to HR. With it's two tone touch, it looks smart, and blends in well in a fashion sense.
Although it is still bulky in size, this may not suit on a small wrist or for ladies, but it boils down personal taste and your needs.  However, the size of the touch screen (160 by 68 pixel monochrome) on the device is decent making it easier to read your stats, and smartphone notifications.
Conveniently, the Garmin Vivosmart HR+ touch screen allows you to swipe through the home screen, giving you access to 'always on' time, everyday steps, flight of stairs, calories burnt, active minutes, distance covered, music options, weather updates, sleep tracking, your heart rate (which at a tap you get a 4 hour history in graph format) plus caller/messaging notifications (which at a tap you can read the full version).
You must be thinking by now, that is some serious load of information presented on the screen that is smaller than one inch! Yep – it is a serious piece of work to come up with readable date.  Really the team at Garmin are smart cookies to continuously evolve the fitness tracker industry.
Finally like all of it's products, the Vivosmart HR+ is a waterproof fitness tracker with a rating to 5 ATM or 50 metres – this is great for swimming, but surprisingly it does not a dedicated function for swimming.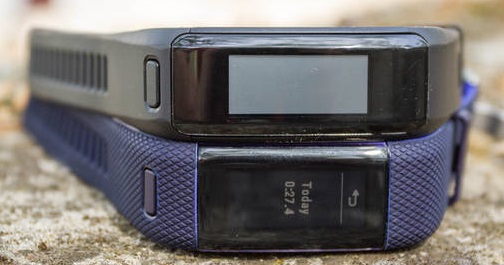 Here's what difference between the Vivosmart HR+ and the Vivosmart HR.
HR+ has GPS capabilities
It has a dedicated running training mode
It has a basic mode for 'Run/Walk' and a mode for 'Virtual Pacer'
Relatively same sized of display screen, but overall the outer beffuer surrounding the viewing screen is smaller
Available in purple and blue
1 gram heavier
Move IQ has been added for 'automatic sport recognition' from walking, running, swimming to cycling.  Note – except for walking, you will not receive any data to distance to those exercises.  Instead, you will data to time plus an icon.
HR+ battery life around 5 days with no GPS usage and up to 8 hours with GPS enabled
The Vivosmart HR+ covers the core of Vivosmart HR features from:
24/7 ELEVATE optical Heart Rate sensor
Tracks Daily Activities plus with Idle Alerts plus Intensity Minutes
Automatic Sleep Tracking
Counting of number of stairs climbed
100% without fail smartphone notifications from caller id, sms messages, calendar alerts and weather updates
Mode for tracking Cardio & Other Activities
Music controls over your phone
Garmin VIRB HD Action Camera control
ANT+ Heart Rate data transmission to other Garmin products
Waterproof fitness tracker that is waterproof up to 50 metres
And No, Garmin Vivosmart HR+ does not support an external Heart Rate chest strap (or any kind of external sensors)
Garmin Vivosmart HR+ Activity Tracking Features
There are 3 notable features: robust smartphone notifications, GPS tracking for running and day to day activity tracking.
Let's look at step counting. It is reliable and it is intuitive as it is tracked is against a moving target that Garmin customize for you. It will take a few weeks for the moveable goal to set, as it finds the balance between achievable short term goals and tougher long-term goals. However, if you prefer to customize your own targets – you can.
Next up is the 24/7 heart rate recording which keeps track on the bpm continuously and does a decent job at it. The heart rate data are then correlated to give you a 'resting heart-rate', a more accurate indication of your state of health. As well, 'Garmin Connect app' will provide historical data of your resting heart rate.
As well, your sleep is automatically monitored and recorded to the Connect app.  In the app you can set the preferred bedtime, and see how many times you slept at your preferred times, the number of toilet visits during your slumber and the number of hours slept.
Lastly, there is the all essential idle alert, which has a 'Move' bar feature.  This is how it works – as long as you remain inactive, the home screen is gradually filled until it occupies the entire home screen which then 'nudge' you to get moving.  In our opinion, it works well as it has the visual aspect and as you see the bar occupying the screen there is a sense of more urgency to move and avoid that prompt.
The only negative aspect : the kind of activity needed to clear the screen.  In order to reset the screen, you simply have to walk 2 minutes only and the Move bar will move to the start line.  That's kinda short for being active.
Really, the Garmin Vivosmart HR+ is a gem of a device, and accurate too. Whilst the design is chunkier than the Fitbit Charge HR, it is loaded with rich stats which will please the serious fitness fans.
Sports tracking Feature of Vivosmart HR+:

"The One" – it is the GPS location feature. Vivosmart HR requires a runner to jog around with a smartphone to take advantage of the GPS but the HR+ takes away all the inconvenience as it can basically track your run itself.
Simply by pushing the button on the side and selecting the activity mode and then tap 'Run' to kickstart the GPS tracking.  Typical of a GPS fitness watch, Vivosmart HR+ will record your pace, time, distance, and calories.
Notable extra smart features
You can even configure a pace target that the tracker will measure and alert you when you go below or above the target pace.
You can a target time of your running distance and the device will figure the pace of the run.
Plus there are extra tiny alert features for when you have reached a set threshold for any metrics to the time, calorie and distance metrics.
Heart Rate alert, which you can set a specific Heart Rate zone that you want to train within.
However, there is only a dedicated mode for running, indoor running, as well as cardio and open workout with the options to use GPS. Hence, for exercisers who wants a multi-facet sports option, this is not for you.
For swimmers and cyclists, there are no individffffff" border_style="soli which is disappointing. You can get around this by using the 'open workout' feature – just like going for a Zumba session or a workout at the gym – you will have GPS tracked data like distance covered, workout time, calories burnt off as well as heart-rate, but the data will not be specific enough.
Hence, for exercisers who wants a multi-facet sports option, this may not be for you.
With regards to heart rate monitoring, Garmin Vivosmart HR+ utilizes the built in Elevate sensor.  And like it's predecessor, the heart rate recording is fine for 'steady as she goes' running and gentler workouts but when it get's to higher intensity training like sprinting or HIIT, the results are uneven.  The issue arises when there is plenty of excessive motions and wrist flexing, plus a lag time.
Unfortunately, the Vivosmart HR+ does not sync to heart rate chest straps (and does not support ANT+) for individuals who desire pin point accuracy, which is surprising.  This highlights that HR+ is an activity tracker built for running, and not suited to be the 'all round' training tool.
Like it's predecessor, you can relay Heart Rate over ANT+ to other gadgets that can support ANT+ Heart Rate data (like the Garmin Edge cycling).
Garmin Vivosmart HR+: Smartphone Notifications
By far, Garmin has the most robust smartphone notifications, the HR+ will relay any notifications to your wrist from your smartphone, and it works perfectly without fail.
It is simply one of the best performers outside of Apple Watch and Android Smart-watch.
You have the option to read the messages in full simply by tapping to see the next section of the news on the HR+.  For emails like Gmail, the messages are trimmed.  Plus simply by going through the main menu, you can recover the previous 3 notifications at your wish.
The Garmin app works well with on iOS and Android phones and there is even a web desk version to access data from the laptop, PC or Mac.
The App is the place to analyse the slew of information, charts and graphs that lays out your activities, as well as snaphots of day to day data, steps counted for a period, and training.
Although it is not the easiest nor the simplest of fitness apps to use, but once you get your head around it you will notice how powerful it is at keeping tabs of all the activities in Garmin.  Plus the web version is even more handier which allows you to customise a plan for your workout, design your routes, training schedules and monitor your progress to your target goals.
As mentioned earlier, the Connect App is a fine application is a fine application but it will take time to navigate and understand what it can offer.  But when you get a hang of it, the graphs and stats are quite in-depth.  If you are a numbers kind of person, this will suit you.
Battery life of Garmin Vivosmart HR+
If you use the HR+ using workout sessions and full notifications, you will get approximately 5 days of battery juice, which is quite decent
Last Words on Garmin Vivosmart HR+
Garmin Vivosmart HR+ is the best fitness tracker watch for serious runners who desire more extra smarts. Even for a half-hearted runner, the Garmin Vivosmart HR+ is far, far superior to Fitbit's line fitness watches, which offers powerful run tracking as well as reliable day to day activity data. There are some drawbacks, unfortunately. There is no dedicated activity tracking for cycling or swimming, with running being the only exercise with a dedicated tracking mode. Let's hope with Garmin's future updates there will be a dedicated mode for both swimming and cycling, however, this is only a small blemish for a waterproof fitness tracker worth both your time and money.
Plus this has to be the tiniest consumer GPS fitness wearable ever produced by a major retailer.